A CALL TO AUTHENTIC BROTHERHOOD
The Gift of the Band of Brothers' Ring
The Need for Authentic Brotherhood. Our King never intended that we fight the battle alone. We need real and authentic Christ-like friendships. The Band of Brothers' Ring, with the insignia of a sword-shaped celtic cross, is a gift to your friend to express your desire for a Jonathan/David relationship. Jonathan sealed his commitment of friendship with David by bestowing gifts. Jonathan, a son of King Saul and rightful heir to the throne, saw something truly special in David the "shepherd boy." Jonathan had a God-given lens to recognize that David was the future King. He called out and commissioned David to live out his true calling by bestowing Kingly gifts - a robe, tunic, sword, bow and belt. Jonathan then spent much of his life fighting for David's anointed heritage. This sterling silver ring serves this same purpose - it is a statement that you see something very special in your friend. Your friend is being called by God to be a brother of the King of Kings and Lord of Lords. For "God chose them to become like his Son, so that his Son would be the firstborn with many brothers..." (Rom. 8:29). For more on the story of Jonathan and David, click here.
The ring then serves as a challenge and invitation to your friend to say "yes" to the call of our King and to make the decision to be a disciple and brother of Christ - no matter the cost.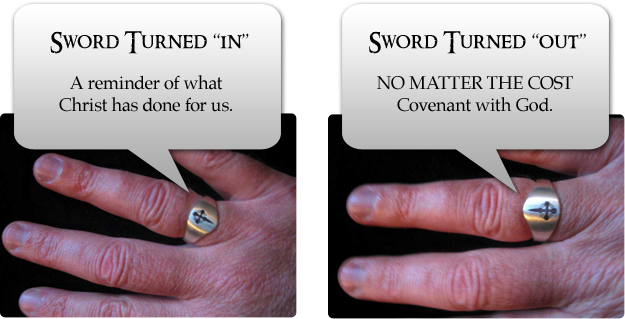 Symbolism when wearing the Ring:
When the recipient the gift of the Ring wears the Ring in, facing one's self, it serves as a reminder about what Christ has done for us. It also serves to remind us of our identity in Him. But if the brother turns the Ring out, it is symbolic of his personal covenant and pledge of what he is going to do for Christ - that is, the decision to follow Him unconditionally - NO MATTER THE COST!
The Ring is a Gift
The ring is given to a brother/friend with a card, which includes the "Symbolism of the Ring," "Text of Affirmation," and "Text of Challenge." And before making a decision to be a disciple and brother of Christ, men are asked to consider the costs and the rewards. To read the exact text that is printed on the card, click here. A core value of the Band of Brothers is that all rings are gifts - similar to the gift of the ring from the father to his prodigal son. The father saw and knew the true identity of his son, and wanted to honor him in spite of his rebellion. The father knew his son's rightful heritage and chose to honor him with Kingly gifts of a robe and ring.
Likewise, we want men to be believed in, truly seen, and honored by another man - in spite of our rebellion against God. Christ's sacrifice on the cross makes this possible - for we are all prodigal sons. We then want men to be called out and challenged to engage in the great and noble cause for which they were created - the cause of Christ! They, in turn, will call out and fight for the hearts and legacies of others. This is a way the gospel message of freedom spreads and God's army can be united.
Just like salvation is a gift from God and cannot be purchased for oneself, we desire that all these Band of Brothers Rings are gifts. True glory always is bestowed and can never be taken for oneself. Although we cannot enforce this "rule," please honor this request. If you engage in the battle for others, then God will anoint a warrior to fight for you. Be patient - a ring will come to you! If you already are part of a small band of men who meet regularly, maybe your band can order the rings together and commission each other in a "ring ceremony."
When your friend receives the ring, the card that is sent with it (from you) clearly states that there is no pressure to wear the ring and that there is no expectation of anything in return. If he does not desire, or is not yet ready, to make the decision to be a disciple of Christ, the ring can be worn with the cross facing himself as a constant reminder of what Christ has done for us; and of your friend's true identity and rightful heritage in Christ. When the ring is worn in this manner, the recipient is not making any statement to the world about any decisions or commitments he has made. He merely has been given a gift by someone who truly believes in him. However, when the ring is turned out, with the cross facing the world, it is a symbol of one's personal decision and covenant with God to be Christ's disciple - no matter the cost.
Commissioning Disciples of Christ. In this manner, we hope God will use the Band of Brothers' Ministry to help commission and raise up a generation of men who have made the decision to be true disciples of Jesus; men who have made a covenant with God to serve Him; men who are not ashamed to tell the world of their allegiance to Christ; and men who are willing to challenge other men to live out the mission for which they were created! Read about the 6 distinct purposes of the ring by clicking here.

To read the words that are on THE CARD that comes with the ring, CLICK HERE.
KEY SCRIPTURE
"Jonathan made a special vow to be David's friend, and he sealed the pact by giving him his robe, tunic, sword, bow and belt." (1 Sam 18:3 NLT)
"The Lord now chose ... other disciples and sent them on ahead in pairs...." (Luke 10:1)
| | |
| --- | --- |
| | Only $46.95 |